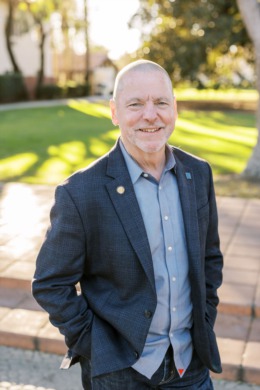 I was born in Chula Vista, California and the youngest of three boys. Raised by a Navy Officer and his wife taught me respect, morals and values from an early age. After traveling to Europe and England where my father was stationed we returned to the United States. Settling in Orange County my California upbringing started. Yes I grew up surfing, motorcycle racing, playing sports and music and so on but my education was always at the forefront. My parents were a stickler about that and I'm grateful to this day. Once graduated from University High School in Irvine, California I immediately went into the workforce. Dad would say you're either in college, the military or working. I chose work. In my late teens after working odd jobs I was able to land a position at Raytheon Data Systems in the shipping department. Working my way up the ladder and soon would be the Logistics Manager for the West Coast. A transfer in 1982 with Raytheon brought me to Ventura County and I've never left. At age twenty-four I was forced to make a career change do to Raytheon selling out to an Oklahoma based company, Telex. My new wife and I didn't want to leave California so I was forced to reinvent myself. I knew I wanted to be in a people facing position and I chose the automobile business. I never really thought of myself as a salesperson but it turned out to be the best moved I ever made. I just love meeting people and getting to know them. Building relationships and trust came naturally. To this day nothing has changed. After a thirty-two year career in the automobile business of which thirty were in management I decided it was time to exit. The long hours and late nights just got to be too much and I longed for more time with my family.
Fast forward to today. I chose to come into the Real Estate business in 2015 because of people. I really thrive in being of service no matter what and I felt it would be a great fit. Becoming a Realtor has become my passion. I look forward to being of service at any level and to anyone. Throughout the years I have found that my true joy is just that. "Making a difference one person at a time".
Please let me know if I can assist you in anyway. I'm always willing too!